Retreats in southern Spain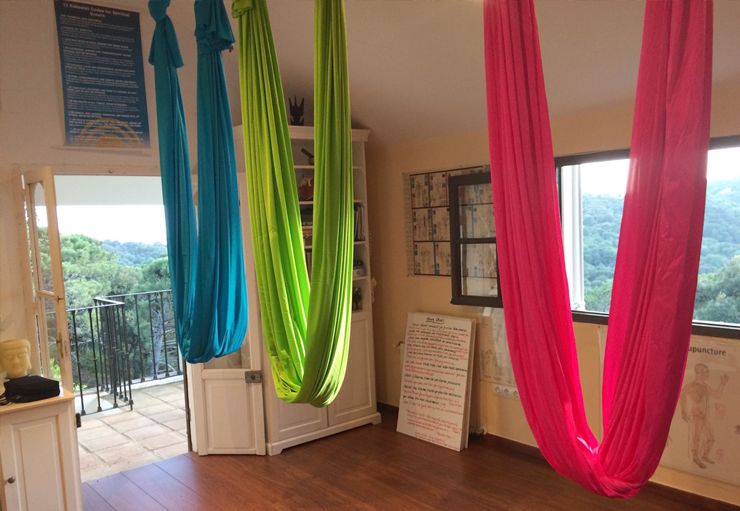 Come and reconnect with the joy of life in stunning nature! You will be offered many tools towards self-healing. Yoga, meditation, treatments, outdoor activities, dancing, qigong and vegan food. At the beautiful Finca Isidora situated amongst the hills in Casares in southern Spain, we want to create a retreat to meet your needs.
The retreat starts Thursday evening and ends after breakfast on Sunday. If you have your own accomodation you are welcome as a day-patient.
THE PROGRAM
Thursday evening
Lighter Ayurvedic meal and Mala & Mantra meditation
Friday and Saturday
08.00 – 09.00 Morning meditation with mantras & slow stretches
09.00 – 10.00 Breakfast
10.30 – 12.00 Aero/Ashtanga/Naam-yoga
12.30 – 14.00 Lunch
14.00 – 16.00 Treatments
16.00 – 19.00 For example; easy walk around the mountain, hike, bath, cycling, dancing (Sevillanas and Bellydancing), eye qigong
19.00 – 20.00 Dinner
20.00 – 20.30 Evening meditation( Mala & Mantra)
Sunday morning
Meditation & breakfast
---
The retreats at Finca Isidora can besides Naprapathy treatment and Acupuncture also offer the following treatments: Esthetic acupuncture, Swedish sport massage, Foot reflexology, Ayurvedic diagnose, Insoles, Reiki, Harmonyum healing and indian head massage.
We are aiming to personalize the retreats to fit everyones needs on their healing path. Our goal is your optimum health within your body, mind and soul.
Welcome to the mountains of Andalucia with a view over to Africa!
For further information about dates and reservations, please contact me by email info@naprapatlotta.com or call me +34 617 22 00 31.
"Hope to see you here in my paradise soon!"
Charlotta
"Lottas retreat makes it possible change ones eating habits. Yoga and hiking harmonically completes the experience. It was tough, lovely and made you think! "
Anna S.